What is CHADIS
CHADIS is a unique, web-based diagnostic, management, and tracking tool designed to assist professionals in addressing parents' concerns about their child's behavior and development efficiently while streamlining other routines of the visit.
Parents collaborate in their child's care by completing online CHADIS questionnaires from home. CHADIS analyzes the question responses and provides the clinician with instant access to provisional diagnoses, clinical decision support, handouts, and community resources specific to the family's needs based on that analysis. The use of CHADIS questionnaires can be billed to the insurance provider.
A brief overview of CHADIS available, as well as a demonstration movie (running time is approximately 8 minutes).
The CHADIS Process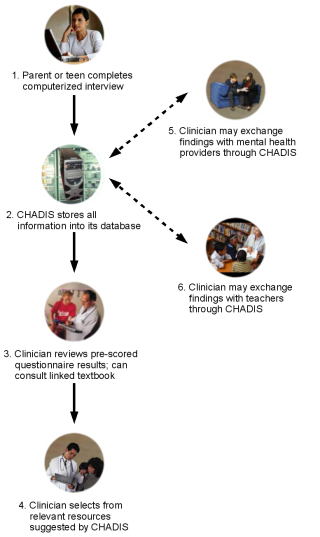 Parent or teen completes a computerized interview about behavior, health and EPSDT topics online via a secure Internet site from home, work, or the waiting room.

CHADIS stores all the information collected from interviews and comments from clinicians. This information is available to authorized users from any computer with Internet access.

Clinician reviews results of the parent questionnaires, top concerns, provisional diagnoses, and health screening answers that are instantly available to them in an electronic worksheet.

Clinician may use links to clinical guides for many topics within CHADIS.

Clinician selects (and optionally prints) handouts and resources (e.g. books, agencies, therapists) from the CHADIS database of resources categorized by topics relevant to the results on the electronic worksheet. Clinicians can have additional local resources added to this database.

Clinician may choose to exchange information with or refer the patient to another provider through CHADIS.

Clinician may choose to exchange information with teachers.
CHADIS is intended to be used repeatedly from one visit to another, as well as between visits, to track the progress of patient care.
Read on for a list of questionnaires available through CHADIS.